Pre-marriage Coaching
Pre-marriage coaching can be of tremendous benefit for every bride and groom – regardless of how long you've been together.  I encourage you to see your upcoming wedding as an opportunity to fine tune your relationship and strengthen its foundation.  You can book as many one hour sessions as you'd like and choose which topics you'd like to discuss.  Here are some of the issues we can cover: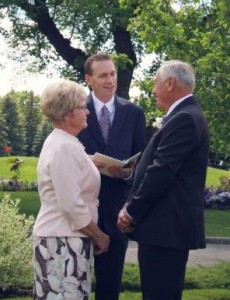 Why Do We Always Have to Talk? – the importance of communication
Opposites Attack – how to resolve relational conflict
Sheet Music – achieving sexual intimacy
The Money Pit – planning for financial success
The Myth of the 50/50 Relationship – what are you expecting from your marriage?
Out-Laws & In-Laws – learning to enjoy your extended families
When Husband & Wife Become Dad & Mom – how children change a marriage
If there are other issues you'd like to discuss let me know and I will try to accommodate your request.  To book a session or find out more information please contact Warren by email at info@marrymeceremonies.ca or phone/text at 587-580-8824.